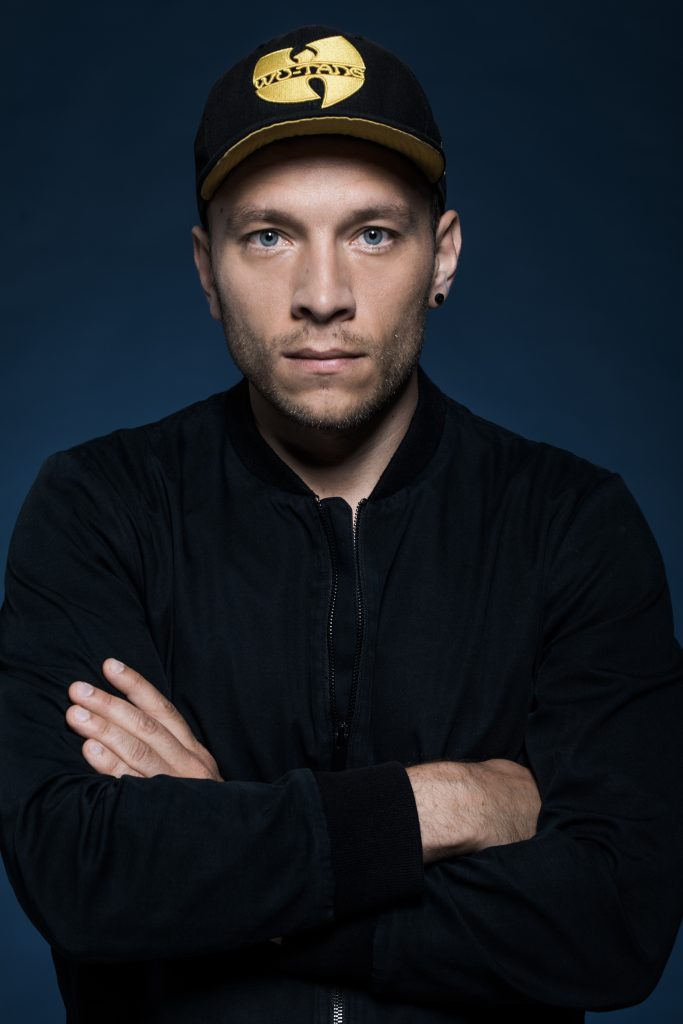 Krzysztof Skonieczny a.k.a. głębokiOFF (1983) –  film and theatre director, scriptwriter, producer, creator of the music videos, cinematographer, photograhper, actor, founder of artistic conglomerate – głębokiOFF ("deeply independent"), interested in an interdisciplinary approach to art. Krzysztof recieved number of awards in various fields and has created diverse projects all over the world. He comes from Wrocław, now based in Warsaw.
He is currently working on his 2nd feature film and tv series in USA. He also runs rap project TEKTONIKA and also creates dedicated to it music videos.
In 2018 he released his HBO Europe TV series based on the book Blinded by the lights by Jakub Żulczyk with whom he co-wrote the script. The series won numerous awards in Poland and was mentioned by Variety as one of The Best International TV Series of 2018. Blinded by the lights was not only broadcasted in all HBO European territories but also in USA (May 2019).
In 2016 he has launched experimental short film Limbs of Sun (co-created with Jacqueline Sobiszewski and produced for NInA – The National Audiovisual Institute), which was honoured with Best Experimental Video Award at 16.New Horizons IFF.
In 2014 his independent feature film debut Hardkor Disko opened in Polish cinemas on April 4th and since then has been shown at over two hundred film festivals all over the world and also has been sold so far to Australia, South Korea and Germany amongst others. International premiere took place at the 36. Moscow International Film Festival – Main Competition, UK premiere took place at the 68. Edinburgh International Film Festival – New Perspectives, while the World premiere took place at the Off Camera IFF of Independent Cinema – Main Competition. Hardkor Disko recieved Grand Prix for Best Polish Film Debut and Awards for Best Actor and Best Actress at 33.Młodzi i Film 2014 in Koszalin – Festival of Polish Feature Film Debuts. Moreover Hardkor Disko recieved at the biggest National Polish Film Festival in Gdynia awards for Best Debut, Best Actress Debut and Best Cinematography and also Audience Award at Fresh Film Fest in Prague, Czech Republic. His film also won Polish Films Competition at 22. Camerimage International Film Festival, Jury Special Mention for Best Director at 14.Sopot International Film Festival,  Special Jury Mention at 19. Forum of European Cinema Cinergia in Łódź – Competition fot Best European Debut and gained him many other distinctions. As a result Krzysztof has been selected to take part in Summer Academy at 67. Locarno International Film Festival (August 2014).
He studied the History of Art at the University of Wrocław (2002-2004) and graduated with honors from the Faculty of Acting at the Theatre Academy in Warsaw (2008). For his graduating performance in They by Witkacy he was honoured with the Ministry of Culture and National Heritage Award and Jan Machulski Award for The Most Interesting Personality at the XXVI Theatre Schools Festival in Łódz, Poland.
He performed in numerous films, among them directed by Agnieszka Holland (In Darkness, starring one of the leading roles, Oscar 2012 Academy Awards nomination) and Andrzej Wajda and theatre performances by acclaimed directors. He was an actor of the Studio Theatre in Warsaw (2007-2009 ) and also collaborated with many theatres (TR Warszawa, Nowy Teatr in Warsaw,  Teatr Polski in Wrocław, Polish National Opera in Warsaw.), also alternative ( komuna//warszawa, Teatr Usta Usta/2xU).
He is founder of artistic conglomerate – głębokiOFF (deepOFF). He was also a co-founder and member of Association of Fine Artists of All Arts.
He created music videos for top Polish music stars e.g. Jamal, donGURALesko, Nosowska, Brodka, Mister D., Myslovitz, Muzykoterapia, Projekt Warszawiak, Pogodno and others. Moreover his video clip Chleb for Polish writer Dorota Masłowska (Mister D.) was noticed worldwide by media such as Vogue International, Dazed Magazine, Fashionista.com and others.
He also directed few theatre performances (e.g. Magnolia based on the script of Paul Thomas Anderson, about legendary hip-hop crew Paktofonika and theatre remix of the film by Andrzej Żuławski – On the Silver Globe) as well as experimental short films and docs (e.g. dedicated to Bruno Schulz).
He was honoured with several awards in multiple domains e.g. numerous awards for Blinded by the Lights and Hardkor Disko, PromaxBDA Europe Awards, Ministry of Culture and National Heritage Award, Gurantee of Culture Award by TVP Kultura, Onet Award, Man of The Year Award by Gazeta Wyborcza, Wooden Yach Award for Lifetime Achievement as creator of the music videos at Yach Film Festival, Grand Prix 2011 & 2012 at Yach Film Festivals for Best Music Video, Polish Music Industry Award – Fryderyk 2012, Warto Award (Gazeta Wyborcza), nominations for international festivals and selections of Future Shorts and Short Waves programmes.